Using iPads at Registration Check-In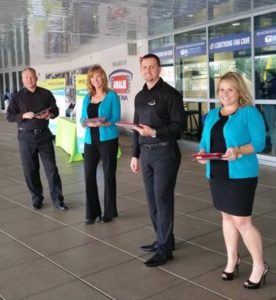 If you are looking to increase the flow and efficiency of your on-site registration consider using iPads. Adding iPads to your registration will allow you to easily determine if an attendees is registered and direct them to the appropriate table to either pick-up their badge or direct them to on-site registration. It will give you the ability to pull real time registration reports and makes providing a final attendee list a real snap. But the biggest value we have found is the personal touch. No tables, kiosks or barriers only smiling staff will greet your guests!
Interested in designing a registration experience for your guests? Give us a call! DeMarse Meetings & Events Agency – We Will Work Our Heels Off For You!