How to Manage Special Dietary Requests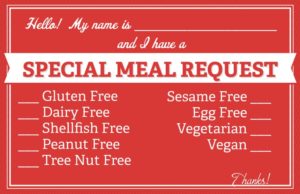 Recently one of our associates attended an industry conference geared towards event planners. As you can imagine, the expectation for perfection is pretty high for the event planner coordinating an conference for other event planners!
Our associate does not eat red meat, which was communicated during registration.  At on-site registration they confirmed they received her request and provided her with an special meal request card to place at her table during sit down meals.  So up front it appears the process is running smooth!  WRONG!  When she placed the card down at her place setting nothing happened.  She brought it to her server's attention as they tried to serve her red meat and they had no idea what the card was for.  So after initial frustration, they finally brought her a vegetarian meal 20 minutes after the rest of the group completed their lunch.   To make matters worse, after bringing this to the attention of the event staff immediately after meal #1 concluded, it continued to happen throughout the rest of the event.  So how do you avoid this happening at your event?
EVERYTHING you want communicated to the banquet staff must be included in your banquet event orders (BEO's).  So the first step is to make sure you clearly communicate on every BEO page that has a plated meal associated with it a statement about your food allergy cards.  Clearly communicate what the cards say on them AND what you expect from the staff
Make sure you cover this in detail during your preconference and provide a sample of the meal card to the banquet captain
Prior to the meal starting, I would always suggest meeting with the banquet captain briefly to ensure all staff have been briefed and there is no confusion on the process
If you have multiple sit down meals planned during your conference, meet with your banquet captain upon conclusion of the meal to determine if you need to make any adjustments to the process
With the significant number of food allergies and dietary needs in our country today, this is an essential process all meeting planners have to adopt regardless of the size or scale of your event!
Another key to success is making sure your attendees communicate their needs in advance!  How do you do this??  It is really out of your control unless they communicate their needs to you!   Check back next week for details!